It is definitely beginning to feel like summer. Wil is getting out of his school in North Carolina this week and Joseph finished two weeks ago. We just joined a community pool to get us through these hot months before we move back to Houston in August!
After a whole school year of routine, it can be a little bit of a challenge to reorganize ourselves for the summer months. There are summer camps, outdoor activities, and BBQ nights that are not part of our normal everyday lives otherwise. All of these activities require sunscreen and bug spray!
There is already a lot to think about when it comes to sunscreen but it is worthwhile to consider what these products are doing to the environment.
An estimated 14,000 tons of sunscreen wash into the oceans each year and contribute to damaging the ocean's reefs. If a sunscreen is free of oxybenzone and octinoxate and has mostly zinc-oxide or titanium dioxide as an active ingredient, it is considered "reef-safe". Also, a lot of sunscreen comes in plastic bottles that get used and then quickly discarded but there are sunscreens on the market in more sustainable packaging. Most importantly, to ensure we are recommending only the most effective sunscreens, we have chosen to highlight only sunscreens that are on the EWG's "2019 Guide to Sunscreens". We have found and tested some very effective, "reef-safe" and sustainably packaged sunscreens for you and the kids from brands that align with our sustainability qualifications.
EWG approved quality, B-Corp certified, and reef-safe sunscreen in sustainable container. The size makes it very easy to always have in your bag for you or the kids.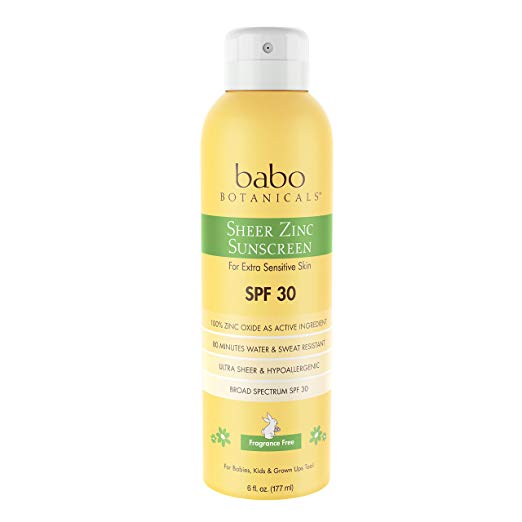 If you have kids similar to mine then spraying them down is way easier than trying to manually apply cream. This sunscreen is EWG certified, reef safe and in an aluminum bottle that can be recycled once completely emptied.
This has great, beautiful coverage for my skin tone. Perfect for tennis & outdoor exercise or trips to the park & zoo. The same EWG certification as their regular sunscreen.
This bug spray has been around for years for a reason. It is safe, effective and encased in an aluminum can that can be recycled.